With the call for the exploring and trying out something new increasing on a good note among the youth, Theme-based cafe in Chandigarh seems to rock their desire and expectation. The Theme-based cafe in Chandigarh is not only for doing justice to the themes on which they are designed but are also chanting the spells to satisfy the needs of the customers in the most perfect way. To bring to your notice, so that you can easily recognize that a theme based cafe is always different from a normal cafe and theme based Cafes are not only present in the good number in Chandigarh but are also delivering the required in an exclusive way. Come forward with us to hunt for some good and different theme based cafes in Chandigarh which should be on your list the next time you step out to discover something new!
Here is the list of some Theme-based cafe in Chandigarh
Cafe Nomad – Cafe in Chandigarh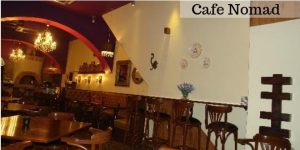 As the name suggests,  The Cafe Nomad is one such theme-based cafe in Chandigarh which revolves around the concept of moving from one place to the other. The menu of Cafe Nomad is a combination of the Middle and the Far East along with Turkey and Greece thus providing you with an opportunity to treat your buds with some different dishes from across different corners of the world. The stuffing of pickled vegetables served with flavoring sauces is nothing less than a treat. The desserts are also similar to the cherry on the cake, adding to your ultimate food journey.
Virgin Courtyard – Cafe in Chandigarh
It is one of the most beautiful cafes which has recently been designed in Chandigarh. Apart from the jaw-dropping look, the Virgin Courtyard cafe in Chandigarh has a wide collection of Italian dishes as well as wines to offer to its visitors. This Virgin Courtyard cafe in Chandigarh is a perfect weekend escape to have a fun time and experience a blissful aroma good enough to enlighten your mood instantly. This Italian theme based Cafe in Chandigarh is just a thing you need to experience the true and vibrant Italian vibes with the mouth-watering dishes.
Books and Brew – Cafe in Chandigarh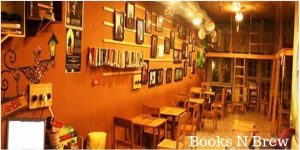 Books and Brew is one unique tree house theme based cafe in Chandigarh which has an amazing structure for sitting and enjoying games along with yummy food. Though the area of this cafe is small but is well-equipped and structured. Apart from good food, you can get to witness some good books here along with different coffee tastes which are a perfect reading companion. Lucy enough, you can also come across people sitting with their guitars on thus adding on to the lit mood. To your interest, Punjabi Singer Akhil's song Khaab was shot in Books and Brew Cafe in Chandigarh.
Oven Fresh – Cafe in Chandigarh
It is a well-known eatery as well as the bakery of the city. Also, it has multiple outlets operating from Elante Mall, Sector 26 and Sector 35. The cakes, pastries and other delicacies are a complete treat for your taste buds. You can even opt for this place for breakfast and enjoy the Paneer tikka sandwich which is highly recommended.
Central Perk, Chandigarh
Do you remember the famous television series F.R.I.E.N.D.S where Chandler, Phoebe, and Monica met? Yes, the cafe named Central Perk was that happening place where these historic characters just bumped into each other and remained friends. Now the show is over on television but the fans of the series still long for a similar cafe to hang out with their friends and loved ones.  Central Perk Cafe in Chandigarh is proposed to open anytime soon, and it will be an add-on in the list of theme based cafes in Chandigarh. It will be located in the poshest and the busiest location in the Trinity so that a large number of citizens can enjoy and experience the prompt and also the amazing services at this international chain of the themed cafe. The food bloggers of the Chandigarh are speculating it to have some happening and vibrant ambiance along with lip-smacking cuisines and drinks.
Other Cafes in Chandigarh Worth a Try
Here we are talking about the latest and more famous and most loved cafes in Chandigarh that are worth trying for their finger licking food, prompt services, and value for the money experience, they are- Cafe JC's, Willow Cafe, Lord's Cafe, French Press Cafe, Rumour Mill, Bag Packers & Gusto, Rustic Door Cafe, Bakes & Beans, F Cafe, Cafe Casba many more. People in the tri-city also love to enjoy their evening sipping coffee or drinks at the domestic as well as international cafe chains like Cafe Coffee Day, Barista  Lavazza, Dunkin Donuts & more, Coffee Bean & Tea Leaf and Indian Coffee House and others.
We also hope that our list of Theme-based cafe in Chandigarh must have been informative enough for all the readers as these were shortlisted only after doing a thorough research and detailed analysis. These cafes are best in the lot and will serve you sumptuous food and beverages with a smile. Also For more such detailed information on the restaurants, bars, and 24*7 opened cafes in Chandigarh, keep following our posts. You can also mention the name of any other theme based cafe in Chandigarh that we might have missed out on our listicle.