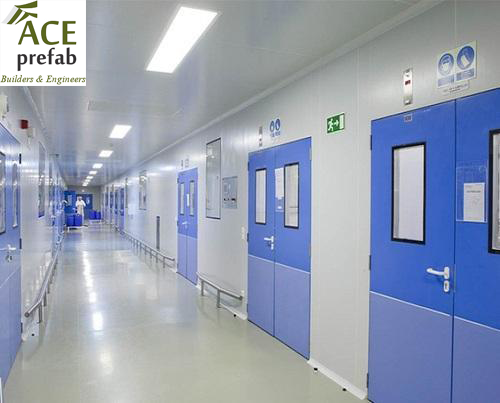 A cleanroom is a controlled environment that has a low level of pollutants such as dust, airborne microbes, aerosol particles, and chemical vapors. Cleanrooms are used in practically every industry where small particles can adversely affect the manufacturing process. They vary in size and complexity and are used extensively in industries such as semiconductor manufacturing, pharmaceuticals, biotech, medical device, and life sciences, as well as critical process manufacturing common in aerospace, optics, military and Department of Energy. The equipment inside a cleanroom is designed to generate minimal air contamination. There are even specialized mops and buckets. Cleanroom furniture is also designed to produce a minimum of particles and to be easy to clean. With the increase of industries in Chandigarh demand for Clean Room manufactures in Chandigarh his also increasing. Here is the list of top 5 Clean Room manufactures in Chandigarh to ease the search and save the precious time of clients.
ACE-PREFAB is engaged in the manufacturing of pre-fabricated accommodations & Pre-Engineered Buildings (PEB) for almost two decades, having in-house facilities for designing, manufacturing and erecting various types of pre-fabricated structures that are widely used in Defence and other Government Organizations. They maintain high-quality standards as per the Director General Quality Assurance (D.G.Q.A) and ISO 9001:2008 certification etc.and know as Clean Room manufactures in Chandigarh
Contact:
#669, Sector 11-B, Chandigarh
Phone: +91 9888300888
Pin:160011
Factory:
Village Samgoli Derabassi
Dist: Mohali (Punjab)
Pin:140501
Email: info@aceprefab.com/sales@aceprefab.com
Website: www.aceprefab.com
Sai Technocon Industries:
Sai Technocon Industries got established in the year 2008. We are a renowned manufacturer, trader, and supplier offering a wide range of products like Air Handling Units, Dehumidifiers, HVAC Module, Air Conditioning Ducts, HEPA Filters, Stainless Steel Pharma Equipment, etc. As an OEM service provider, all these products are manufactured with the use of qualitative raw materials like stainless steel sheets, M. S. Sheets, electric motors, etc and are one of the Clean Room manufactures in Chandigarh
Contact:
Plot No. 775, Industrial Area, Phase-2, Chandigarh – 160002, India
Phone: +917042176978
Mr. M. S. Jamwal (Proprietor)
Mobile: +917042176978
Rinac India Limited is an integrated engineering solutions company. Nothing excites us more than engineering end-to-end solutions for the cold chain and modular construction industries. We set no limits to curiosity, innovation, and ingenuity; constantly questioning perfection and asking ourselves 'What if?' and 'Why not' every day. As a result, frontrunners in several industries come to us for total solutions in the cold chain and construction infrastructure. And they stay on for our domain expertise, technology leadership, service excellence, and customizing capabilities. At Rinac, no requirement is too difficult; no challenge too complicated. We believe that each customer needs a solution, unique to his need, environment, and aspirations.
Contact ::
SCO 146-147, 4th Floor, Cabin No. 409B, Sector 34a,
Chandigarh – 160022,
Nearby Mukat Hospital & Heart Institute (Map)
Manufacturer & Exporter Of Scientific Lab Instrument For School Science Lab, Pharmacy Lab Equipment entomology, Nursing and Medical College Equipment. S.K. Appliances is a trusted name in the industry established with an objective to be recognized as one of India's leading Manufacturers, Exporters, Traders and Suppliers of high-quality Laboratory Instruments, Scientific Equipment and Laboratory Glassware under the SLISCO BRAND NAME ( Scientific Laboratory Instruments for School and College). We "S.K. APPLIANCES" engaged in manufacturing, exporting and supplying of Biotechnology Laboratory Equipment, Pharmacy Laboratory Equipment, Laboratory Glassware, Compound Microscopes, Biology Laboratory Equipment, etc.
Contact:
S.K.APPLIANCES
Sheetal Bhatia(Business Manager)
Slisco House, 5376/2, Punjabi Mohalla 1st Floor, Dr. Munjal Building, Ambala – 133001, Haryana, India
Call Us: 08048025222
PKB Consultant & Contractors Private Limited
Established in the year 2016, Pkb Consultant & Contractors Private Limited in Vip Road, Chandigarh is a top player in the category Vinyl Flooring Dealers in the Chandigarh. This well-known establishment acts as a one-stop destination servicing customers both local and from other parts of Chandigarh. Over the course of its journey, this business has established a firm foothold in its industry. The belief that customer satisfaction is as important as their products and services, have helped this establishment garner a vast base of customers, which continues to grow by the day.
Contact:
Village Bhuddan, Vip Road, zirakpur – 140603
Phone=9152688860
Cleanrooms maintain particulate-free air through the use of either HEPA or ULPA filters employing laminar or turbulent airflow principles. Laminar or unidirectional, air flow systems direct filtered air downward in a constant stream. Laminar air flow systems are typically employed across 100% of the ceiling to maintain constant, unidirectional flow. Laminar flow criteria are generally stated in portable workstations (LF hoods) and are mandated in ISO-1 through ISO-4 classified cleanrooms. Proper cleanroom design encompasses the entire air distribution system, including provisions for adequate, downstream air returns. In vertical flow rooms, this means the use of low wall air returns around the perimeter of the zone. In horizontal flow applications, it requires the use of air returns at the downstream boundary of the process. The use of ceiling mounted air returns is contradictory to proper cleanroom system design. Various companies are providing the cleanroom facility but the above mention industries are leading in the field and getting the overwhelming response as the Clean Room manufactures in Chandigarh