As we know, Chandigarh is one of the most beautiful cities in India. There are also lots of nice options for youngsters to spend time with their friends and enjoy a wonderful evening. The best of them are-
Geri route:
It states the youth of the city on this particular stretch from sector 8 to sector 11. Also one could see college going girls and guys roaming on their motorbikes or cars around the streets. This is one of the happening places for the college crowd as well as couples. These sectors have good restaurants and café as well. Some of the popular eateries here are Willow Café, Get Deserted, CCD, Subway, etc. You should have to try to go and spend precious time with your friends.
Sukhna Lake: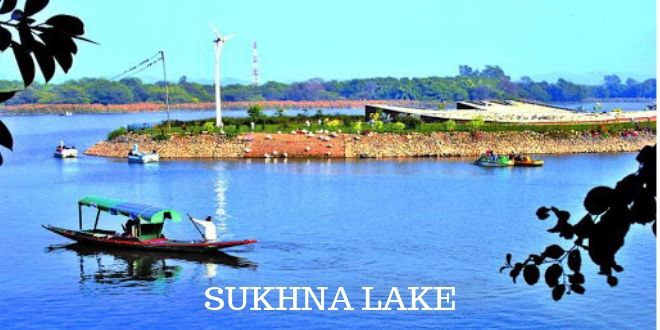 The best part of Chandigarh is Sukhna Lake. It is a place where you could go with your family and friends. In the evening, the place gets crowded as the front side has a restaurant and a game zone as well.  Also, boating is one fun activity which you can enjoy here with your friends and family. This is a perfect place to spend some quality time with your near and dear ones. It is the best place to see nature's beauty.
STU-Cee:
STU-Cee is the students' center of Punjab University where one gets good food at cheap prices. This is another happening place in the city where you get to see the young crowd enjoying and partying on the streets. The spot comes alive in the evening with a crowd when it gets flooded with couples and groups. The university students and the outsiders make this place amazing and more enjoyable during the evening hours. Everyone can go to enjoy the parties.
Books N Brew:
This cafe is in Sector 16, very close to University and Geri Route, which has a very creative and unique ambiance. You get to eat amazing food here, read books from the bookshelf, watch a movie on your laptops or play some indoor games. The food in this cafe is also fine and the staff is good too. It is very reasonable and the bill for two is around Rs 600. This place is always often crowded by college goers. Groups play Uno, Jenga, etc games and spend a good time here. one can hang out with their friends and chill out.
Blu-O: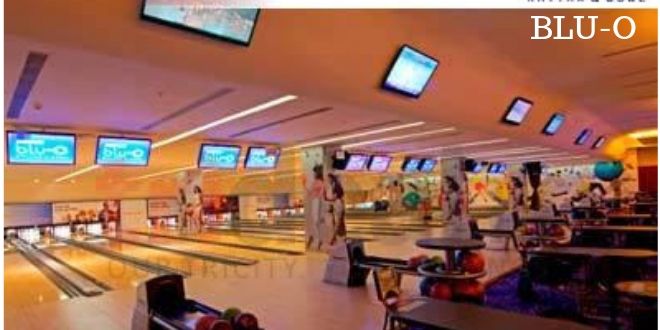 It is a very nice place for cosmic bowling, located in Elante Mall, Industrial area. It is a place where you play and have a good time with your friends, enjoy drinks and eat North Indian, Continental, and Italian food. The cost for two is around Rs 1500/-. The ambiance, staff, and food are really good which makes it a worth trying place to hang out with friends. There is also background music with a good collection of trendy songs add up to the enthusiasm of youngsters. This is the only nice place for bowling in the city and it never disappoints its visitors. Everyone goes there and enjoying the food with friends.
Underdogs: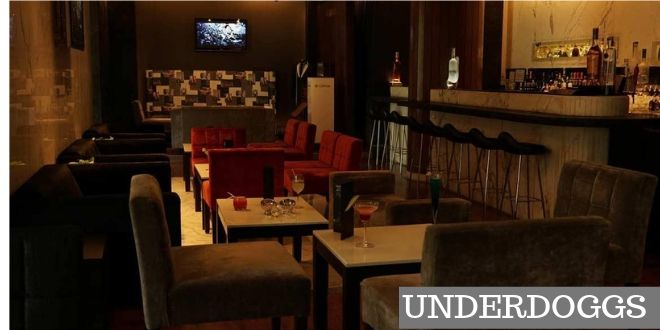 Underdogs Sports Bar & Grill is a fabulous place in Elante Mall, Industrial Area which is known for its live screening of matches, therefore it often remains crowded.  It is a sport-themed, dark ambient with a loud music place where you can also enjoy at Ping Pong tables, carrom board, Football Tables, Pool which attracts the young generation. The food is sumptuous but expensive. The cost for two is a minimum of Rs 2,000. One should go there and enjoy every moment with their friends.
Cafeteria:
Cafeteria 26 is one of the popular cafes in Sector 26. Chandigarh. This place is very famous among the college goers as its ambiance is dark and has loud music. They have a very nice variety of food which is offered at reasonable prices. This is a decent place for all sheesha lovers. Servicing is quick and staff is welcoming. The cost for two is around Rs 600. Also, they have upstairs sitting which is very comfortable and is usually preferred. It is the famous cafeteria in Chandigarh where one can spend time with their friends.
Five Degrees:
It's a stunning café having a casual dining ambiance which is in Sector 5, Panchkula and is located in a park. Nature adds up to the beauty of the place also it has both indoor and outdoor sitting. There are a rooftop hookah place and a huge screen. The music here is awesome and adds up to the mood of sheesha lovers. The ambiance of the restaurant is awesome and gorgeous. They can serve continental, Italian and north Indian food which is available at fine prices and cost for two is around Rs 1200/-. Anyone can go there and enjoy the various varieties of food.
Beer Café:

This cafe is a very famous casual dining café in Elante Mall, Industrial Area which serves north Indian and finger food. This place is well known for serving 50 different varieties of beer across 17 countries. The ambiance of this cafe is stunning as they have indoor as well as outdoor sitting. The music is cool and the service is good. The food is delicious and is available at reasonable prices so the cost for two is Rs 1200 approximately. So, everyone can spend their time with friends and enjoyed the moments.